Petaling Jaya, 4th August 2015 - Empire Hotel Subang participated as a sponsor in the recently held World Vision 30-Hour Famine at the Stadium Petaling Jaya. Thousands of passionate young Malaysians gathered for the last four hours of the 30 Hour Famine to end their 30 hour fast together at 2pm, Sunday 2nd August. The participants began their fast the day before at 8am.
Participants of the 30-Hour Famine abstained from solid foods for 30 consecutive hours to raise funds for World Vision's projects tailored to fight hunger and poverty. Children aged 12 and below participated in the 8-hour Kidz Famine, a mini version of the 30-Hour Famine.
18,000 Malaysians are standing up against hunger in a powerful show of solidarity with impoverished children and communities around the world. Altogether, 33,000 participants took part in the nation's largest fund-raising and advocacy campaign. They hailed from 200 Do-it-yourself (DIY) Famine camps throughout Malaysia. A total of RM2 million was raised to support projects combating hunger and poverty.
"It is an honour for us to be a part of the 30-Hour Famine organised by World Vision" said Mr Ho Ricky, Group General Manager of Empire Hotel Subang. "World Vision's holistic approach to helping communities build a sustainable future is something that we strongly believe in and support."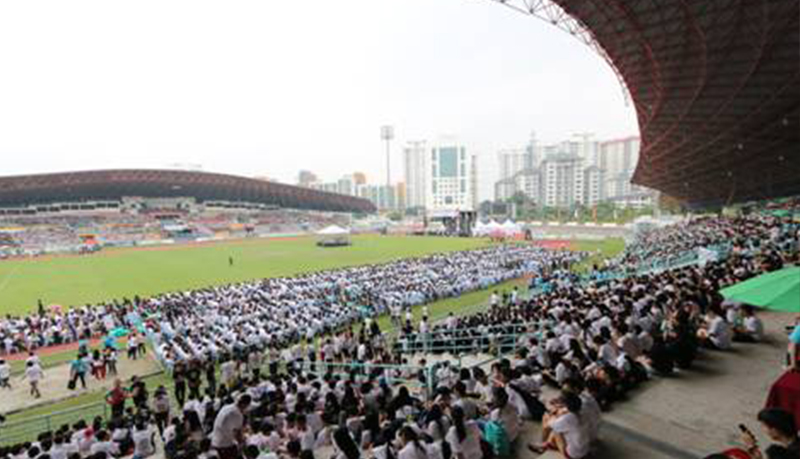 "It is very encouraging indeed to see thousands coming forward to support such a worthy cause. We would like to take this opportunity to congratulate World Vision on the success of their 30-Hour Famine programme."
World Vision Malaysia CEO Dato' Ir. K J Abraham thanked Empire Hotel Subang for its unwavering support and partnership for the past three years. "It's important to know the issues affecting humanity. More than 1.3 billion people today live in extreme poverty, and the global hunger crisis is a silent killer that takes millions of lives. World Vision is working hard to lift communities out of poverty through life-changing and proven initiatives that are sustainable. We are grateful to Empire Hotel for standing alongside us in our fight to improve the lives of children and families in need around the world. It's truly encouraging when corporations come on board and lend their support to such a meaningful cause," said Abraham.
To spur the participants towards the finishing line, the World Vision 30-Hour Famine Countdown featured various interactive and entertainment programmes including performances by local and international artistes.
Malaysian-born singer-songwriter and 2015 Famine Ambassador, Penny Tai made a special appearance at the event and shared her experience participating as a volunteer with World Vision.
Other artistes who lent their talent in support of the 30-Hour Famine were Francissca Peter, Yise, Juwita Suwito, Alvin, Athena, Tapestry, Precious, Fuying and Sam, Zen, Josh Kua and Mel Sim. Made of Passion, a homegrown dance troupe comprising 30-Hour Famine were also among the participants who performed.
Celebrities Deborah Henry, TV personalities Melissa Ong and Bernard Hiew, emcees William Lee and Natalie, Chrystina, Wind, Bernard from 8TV, Mei Yan, Jason, Royce, Wayne, Jym and Jeff from MY FM, Dragon and Phobe from Melody FM and Jeffrey, Joojo, Karena and Kyo from NTV7 made appearances at the event.
Members of the public who wish to donate to the Famine Fund can do so by logging onto http://famine.worldvision.com.my/.
Back to News