Subang Jaya, 16th May 2016 - The Malaysian Lysosomal Diseases Association (MLDA) held its annual fundraiser at the Emperor Ballroom, Empire Hotel Subang Jaya on Sunday, May 15. The theme, RM1 for Every Life Counts, looks to create more awareness and raise funds for people effected by Lysosomal Storage Diseases (LSD) – a group of approximately 50 rare inherited metabolic disorders that result in an inability to create enzymes within one's body. The evening featured a multi-course menu sponsored by venue partner Empire Hotel Subang followed by motivational speeches and inspiring performances provided by Gig Fairy Live, sponsored by Brickfields Asia College.
In an awe inspiring display of true community spirit working towards the cause, with more than 300 guests in attendance this year; representing some of the best known companies and agencies in the public and private sector including Brickfields Asia College, Mammoth Empire Holdings, Sanofi-Aventis Malaysia, PME Consulting Sdn Bhd, Mega 3 Housing Sdn Bhd, KRS Travels Sdn Bhd, Sunway Integrated Properties Sdn Bhd, IJM Land Berhad and Broad-Way Engineering Trading & Services Sdn Bhd.
The presence of the Member of the Upper House – Parliament of Malaysia, Senator Bathmavathi Krishnan at the charity dinner reassured MLDA to secure some really inspirational pledges that very evening including her own pledge of RM5000 followed by a moving speech and pledge by Brickfields Asia College. Mr. Raja Singham, Managing Director of Brickfields Asia College and Founder of the Make It Right Movement (MIRM), committed to donating MYR50,000 per year for the next 5 years to help children with LSD.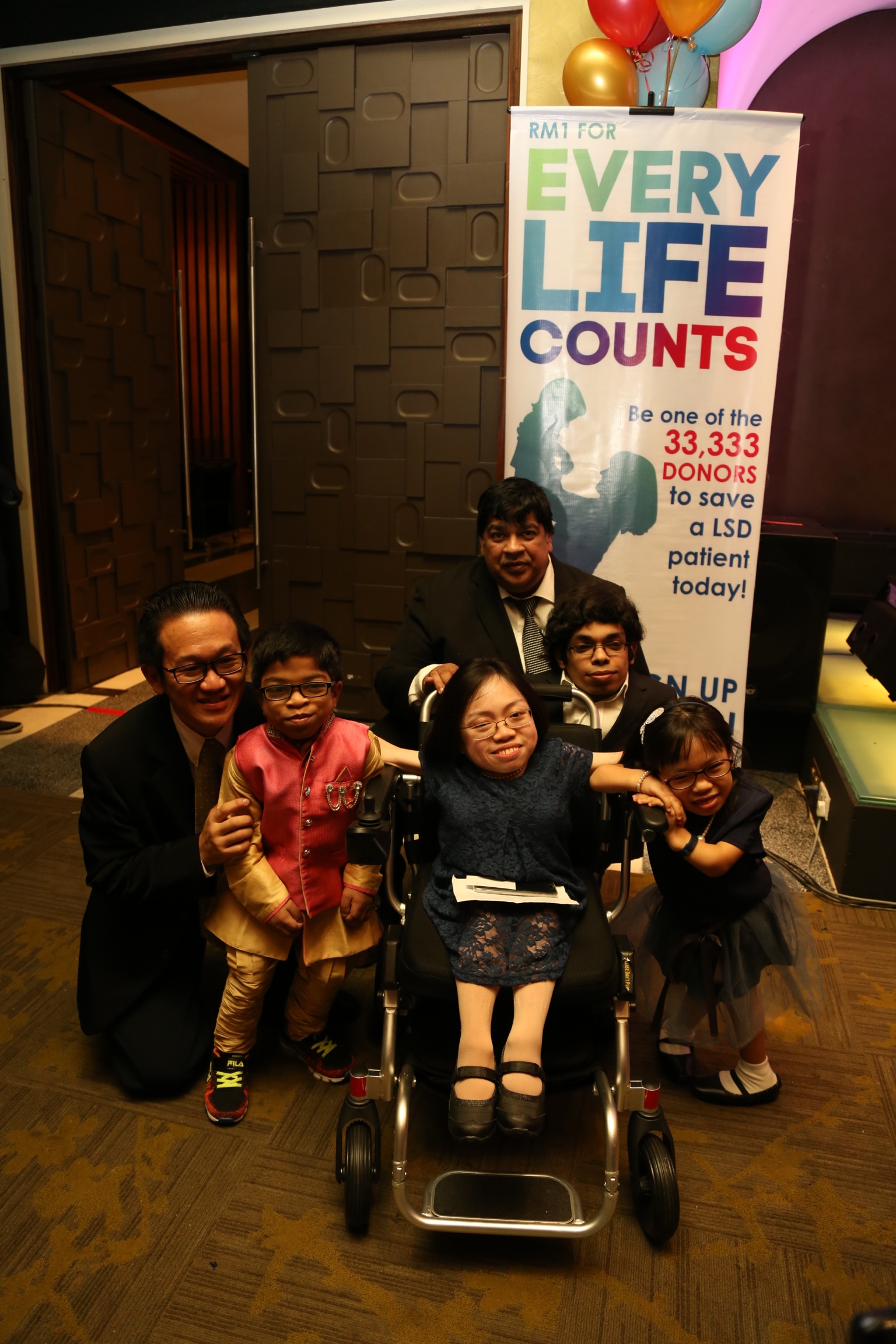 "I call upon all corporate representatives in attendance to match our pledge of MYR 50,000 annually for the next 5 years in order to allow MLDA to not having to start from scratch every year," said Mr. Raja Singham. "As a compassionate citizen of our beautiful country, it is imperative that you take a stand on the overriding challenge faced by our children with LSD; confronting the growing challenges of raising the required funds. We call on you to take this pledge and help us realize to do the right things instinctively and enthusiastically," added the Founder of the Make It Right Movement.
"We are truly blessed. The generosity of our guests is absolutely amazing. The support from all of our sponsors and the dedication of all our volunteers is what makes this event such a memorable one," said Mr. Lee Yee Seng, President of MLDA. "We feel fortunate to be able to receive this large contribution to MLDA."
---
About MLDA
The Malaysia Lysosomal Diseases Association (MLDA) is a non- profit organisation which advocates for patients' rights to a sustainable health care and support system. It also raises the awareness of the general public about the life threatening Lysosomal Storage Diseases. For more information around MLDA, visit their website at www.mymlda.com or facebook page: Malaysia Lysosomal Diseases Association.
About RM1 for Every Life Counts Campaign
1 out of 7000 people is afflicted by LSD. Early Diagnosis and treatment is critical in preventing irreversible conditions. The RM1 for Every Life Counts is a people's movement that gives ordinary people a practical opportunity to help children living with Lysosomal Diseases (LSD). With just RM1 a day donated by 33,333 people, the campaign is able to address the treatment needs for LSD patients.
For more information on how you can make a donation, contact Ms. Siti Nur Aishah (MLDA Secretariat) +6019 491 2263 / secretary.mlda@gmail.com
---
Links
Facebook Page :
Malaysia Lysosomal Disease Association
Website : www.mymlda.com
Back to News